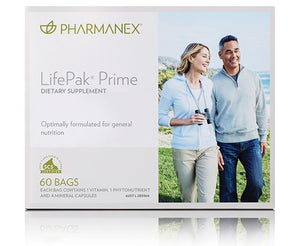 LIFEPAK PRIME - 60 packets
Regular price $241.50 Sale
Or 10 interest free payments from
$24.15
with
What's this?
or make 4 interest-free payments of $60.38 NZD fortnightly with
More info
LIFEPAK PRIME
LifePak Prime is a comprehensive nutritional supplementation system, delivering the optimum types and amounts of vitamins, minerals, trace elements, antioxidants, and phytonutrients for the general health of men over 40 and post-menopausal women. LifePak Prime has been improved with the addition of specific nutrients that target the aging process. In addition to the new benefits of regular LifePak, LifePak Prime now provides BioGinkgo 27/7 extract, and more alpha-lipoic acid, coenzyme Q10, and grape seed extract.
BENEFITS:
LifePak Prime provides the same benefits as LifePak, plus:
Provides powerful anti-aging protection, with even more alpha-lipoic acid (50 mg) and coenzyme Q10 (20 mg).
Optimum-potency antioxidant formula, now with increased levels of alpha-lipoic acid, lycopene, coenzyme Q10 and grape seed extract (50 mg) for added free radical neutralization.
Supplies targeted nutrients for men over 40 and postmenopausal women, such as turmeric, milk thistle, and coenzyme Q10 for increased heart function.
Provides increased levels of calcium and magnesium to address bone health.
Delivers increased levels of specific nutrients (B6, B12, zinc) to address optimal intakes important to this age group.
Now provides Pharmanex's proprietary ginkgo biloba extract, BioGinkgo 27/7, for memory enhancement.
USAGE:
Recommended for adults over 40
Two (2) bags daily - take the contents (5 capsules) from one LifePak Prime bag with 250 ml of liquid with your morning and evening meals. Do not exceed two (2) bags a day.
Each bag contains 1 vitamin, 1 phytonutrient and 3 mineral capsules.