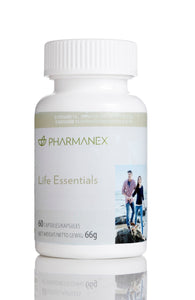 LIFE ESSENTIALS - 60 capsules
Regular price $60.50 Sale
Or 10 interest free payments from
$6.05
with
What's this?
or make 4 interest-free payments of $15.13 NZD fortnightly with
More info
LIFE ESSENTIALS
A balanced multivitamin/mineral supplement provides 21 essential vitamins and minerals to assist in normal health and well-being. Includes antioxidants beta catotene, vitamin C, and vitamin E to neutralise free radicals. Also provides chelated minerals. Does not contain artificial binders or colour.
BENEFITS:
Contains the basic antioxidants beta-carotene, vitamin C, and vitamin E, which help neutralize free radicals in the body.
Offers an excellent source of chromium, a mineral that works with insulin in the metabolism of glucose for energy production.
Provides an excellent source of 12 essential vitamins, which are vital dietary components for normal function, growth and maintenance of body tissues.
Contains a natural source of beta-carotene from Dunaliella salina with mixed carotenoids.
Contains a natural source of vitamin E with mixed tocopherols.
Delivered in a gelatin capsule that meets the USP XXII specifications for disintegration of vitamin and mineral dietary supplements.
Contains no preservatives, artificial colors, or flavors.
Provides chelated minerals to enhance absorption.
Taken twice daily, Life Essentials provides steady dietary support.
USAGE:
Recommended adult usage is two capsules daily. Take one capsule with 8 ounces of liquid with your morning and evening meals.