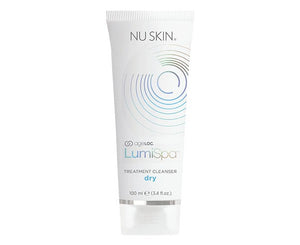 AGELOC LUMISPA Treatment Cleanser - Dry
Regular price $69.00 Sale
Or 10 interest free payments from
$6.90
with
What's this?
or make 4 interest-free payments of $17.25 NZD fortnightly with
More info
AGELOC LUMISPA TREATMENT CLEANSER DRY
A dry skin type may have almost invisible pores, a dull rough complexion, red patches, and your skin may be less elastic and show more visible lines. Dry skin can be prone to tightness and needs specific care to restore the moisture and lipid balance of the skin
ageLOC LumiSpa Treatment Cleanser Dry is a surfactant-free, pure white luxurious cleanser which is lightly fragranced with Violet Leaf and Mimosa Blossom. It removes impurities and sweat while providing conditioning agents and natural moisture compounds to the skin.
Our specially formulated treatment cleansers work synergistically with the ageLOC LumiSpa device to ensure optimal treatment and cleansing, carefully designed to cushion the skin for a gentle cleansing experience.
BENEFITS:
ONE STEP, TWO MINUTES,
SEVEN SKIN CARE BENEFITS.
Visible skin renewal.
Purified skin.
Minimised appearance of pores.
Smoothness.
Radiance.
More refreshed look.
Renews appearance of skin's volume and tightness.
These cleansers have been formulated to be used with ageLOC LumiSpa. They're designed to work synergistically with the counter-rotating motion of the Treatment Heads to optimise distribution of anti-ageing ingredients onto the skin, while cleansing and exfoliating to promote healthy, youthful looking skin.