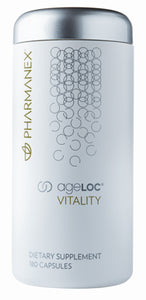 AGELOC® VITALITY - 180 capsules
Regular price $127.50 Sale
Or 10 interest free payments from
$12.75
with
What's this?
or make 4 interest-free payments of $31.88 NZD fortnightly with
More info
AGELOC® VITALITY - 180 capsules
100 % money back guarantee when taken as a 90 day program please see AgeLOC guarantee and additional guidelines.
As we age, our bodies' ability to effectively generate and utilize energy can decline, robbing us of youthful vitality. ageLOC Vitality improves the three dimensions of vitality—physical vigor, mental acuity, and sexual health—by promoting healthy YGC activity associated with youthful vitality.Through targeting the sources of age-related vitality loss, ageLOC Vitality helps you feel more like you did when you were young.
BENEFITS:
ageLOC Vitality is clinically proven to improve
three dimensions of vitality:
1. Physical Vigour
(endurance, stamina, resistance to fatigue)
2. Mental Acuity
(cognition, clarity, focus, memory, alertness)
3. Sexual Health
USAGE:
Suggested Dosing: Take three (3) capsules twice daily.
Can be taken with or without food. Not to exceed six (6) capsules daily.
Alternate Dosing: Take six (6) capsules once daily to jump start your day or to overcome that afternoon vitality slump.