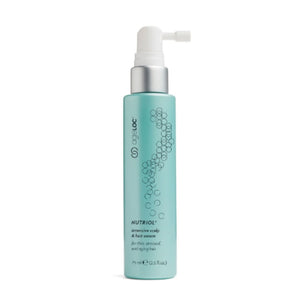 ageLOC® Nutriol® Scalp & Hair Serum
Regular price $107.00 Sale
Or 10 interest free payments from
$10.70
with
What's this?
or make 4 interest-free payments of $26.75 NZD fortnightly with
More info
MEET AGELOC® NUTRIOL® INTENSIVE SCALP & HAIR SERUM  SIZE 75 ML
NEW TO STORE !!!!!
Incredible rejuvenating hair care to help you look amazing down to your roots. ageLOC® Nutriol Intensive Scalp & Hair Serum features a supercharged formula uniquely activated by ageLOC® Galvanic Spa to deliver vital protein and nutrients to your scalp and strengthen your roots for fuller looking hair. This leave-in, non-greasy formula invigorates the scalp day after day and makes hair look and feel divine. Repeat this effortless ritual morning and night to help revitalise your hair.
Benefits
Improves scalp and hair health with an effortless twice daily ritual using ageLOC Galvanic Spa. 
Nourishes and invigorates scalp and hair. Promotes the appearance of fuller, thicker, healthier hair.
Calms and soothes the scalp.  Strengthens and fortifies thin, lifeless hair. 
Protects hair from free radicals. 
Usage
Spray ageLOC® Nutriol® Intensive Scalp & Hair Serum directly onto the scalp and roots by parting hair. Use fingers to gently massage the serum into scalp and roots, comb away any unruly strands, and begin your two-minute ageLOC® Galvanic Spa® treatment.